Indirect materials, additives, and pigments that bring out a variety of properties are compounded with a large number of raw materials, giving rise to a vividly hued color palette. Eikou Bussan offers this color palette for making to make colorful plastic products. Along with establishing systems for meeting a wide array of color-related needs in a diverse range of industrial fields and providing a stable supply of better raw materials, we are actively pursuing weatherability, thermal resistance, chemical resistance, and other properties that are sought. For complex compounds with strict requirements, we were quick to establish our own innovative system and develop UL-listed materials.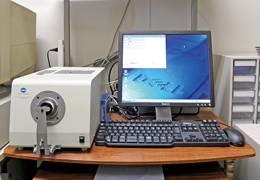 [Computer Color-matching System]
A system that rapidly responds to the growing needs of the coloring market. By analyzing four types of illuminants, such as D-65 illuminant, tungsten illuminant, white fluorescent, and high color rendering fluorescent, as well as detailed data including luminosity, saturation, hue, color disparity, and field of view, and standard color values, etc., in a short amount of time this system is able to achieve accurate color matching that would prove difficult for an industrial colorist.

We process materials for plastics manufacturers, handle general processing work for our other business partners, and sell innovative compounds developed in-house.

Some of our business partners (listed in no particular order)
Lion Idemitsu Composites Co., Ltd.
Prime Polymer Co., Ltd.
Mitsubishi Chemical Corporation
Mitsui Chemical Corporation
PS Japan Corporation
DIC Corporation
Terabo Co,. Ltd.

Trading firms, part manufacturers

Vehicles, home appliances, general applications, elastomers,
recycled materials, M/B inorganic concentrate, office automation apparatus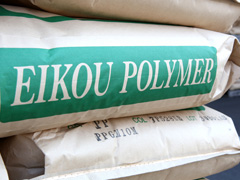 In addition to functioning as a wholesaler for plastics manufacturers, we are also able to sell and deliver small-batch shipments using stock in our own warehouses as well as our private delivery services.
PP
Prime Polymer Co., Ltd. /Japan Polypropylene Corporation/SunAllomer Ltd. /Sumitomo Chemical Co., Ltd.
Compound materials
LION IDEMITSU COMPOSITES CO., LTD.
PE
Prime Polymer Co., Ltd. /Japan Polyethylene Corporation/Tosoh Corporation/Keiyo Polyethylene Co., Ltd.
TPO
Mitsui Chemicals, Inc. /Mitsubishi Chemical Corporation
PS
PS Japan Corporation/DIC Corporation
ABS
Techno Polymer Co., Ltd. /NIPPON A&L Inc.
PC
Idemitsu Kosan Co., Ltd. /Sumika Styron Polycarbonate Ltd.
PMMA
Sumitomo Chemical Co., Ltd. /Mitsubishi Rayon Co., Ltd.
POM
Polyplastics Co., Ltd.
PA
Ube Industries, Ltd. /Toray Industries, Inc. /Terabo Co,. Ltd.
PPS
LION IDEMITSU COMPOSITES CO., LTD.
Other plastics
Note: We also handle materials originating overseas and non-standard products
Our cyclical recycling activities allow us to reuse the materials discarded during our internal manufacturing processes as well as those of our business partners. We also take post-consumer waste and process it so that it can be used in the same products again or in other products. We always make sure that the physical properties of recycled materials remain stable as we relentlessly pursue more Environmentally friendly options.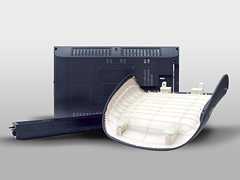 | | |
| --- | --- |
| Fire-resistant PS materials | Consumer electronics recycling for office equipment manufacturers, appliance manufacturers |
| PP materials | Supplied to automakers, motorcycle/scooter manufacturers, and related parts manufacturers |
| POM materials | Auto parts manufacturers |